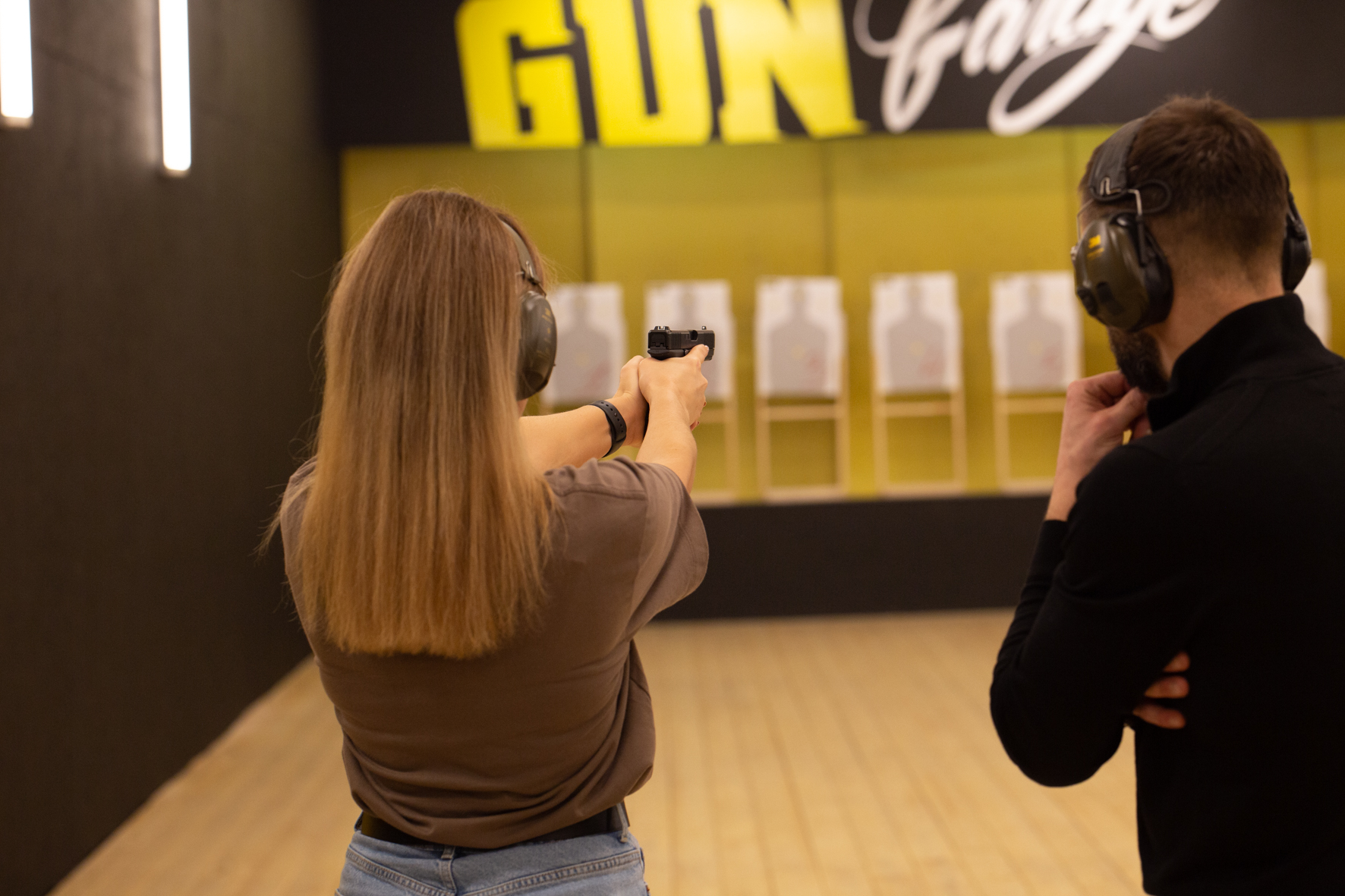 In addition to the shooting experience, our shooting range offers other useful and intriguing services to our clients.
Firearm license training
Price: 250€
GunGarage shooting range offers a specialized training course designed to prepare individuals for the firearm license exam. The course focuses on the intricacies of firearm law and has an approximate duration of 6 hours. It is divided into two evenings, with the first session on Wednesday evening and the second session scheduled based on mutual agreement.
Firearms training (safety techniques, technical aspects of different types of weapons and proper handling) consists of three individual training sessions lasting 45 minutes each, conducted with an instructor based on prior agreement. This format ensures the best possible outcome and the most efficient consolidation of skills and knowledge.
If needed, we also offer additional training and ammunition at discounted rates.
The price of the firearm exam preparation package includes all expenses related to the training, including materials, instructor fees, shooting range rental, firearm rental and 50 rounds of ammunition.
There are no additional fees for different types of permit.
First aid training
Price: 75€
16-hour firearm license applicant training.
On July 1, 2018, an amendment to Section 35 of the Firearms Act came into effect, stating that applicants for a firearm acquisition permit or a firearm license must provide a document proving that they have completed at least a 16-hour first aid training.
The 16-hour first aid training consists of 8 academic hours of classroom instruction and 8 hours of independent study.
"PRECISE SHOT" course
Price: 400€ (100€ x 4 persons), individual training - 200€
The "PRECISE SHOT" training course provides shooters with the skills to achieve accurate shots. A shot is considered accurate when the shooter hits the intended target area. During the training, participants learn proper body positioning, firearm handling, aiming and trigger control techniques to enhance their shooting accuracy.
Participants also gain an understanding of the factors that hinder achieving precise shots and engage in numerous specialized exercises to eliminate these inhibiting factors. After the training, shooters acquire a methodology for independent practice, enabling them to apply their skills to various shooting disciplines or self-defense training. This comprehensive training equips participants with the knowledge and techniques necessary to continually improve their shooting abilities and pursue their interests in different shooting sports or self-defense practices.
The training duration for the "PRECISE SHOT" course is 4 hours, spread over two days with 2 hours of training each day (2x2). Participants will require 50 rounds of ammunition for the practical exercises.
If a participant does not have a personal firearm, the rental cost for a firearm during this training is 20€ and ammunition is available at an additional cost.
Shooting test preparation training
Price: 60€
If your firearms license is expiring and you need to undergo a new shooting test, we recommend reviewing your skills beforehand with our instructor.
The training is individual and personalized, tailored specifically to your needs. We will review proper body positioning, firearm handling, aiming, trigger control, safety protocols and firearm knowledge.
If the participant does not have their own firearm, the rental cost for a firearm during this training is 10€ and the ammunition is available at a rate of 0.30€ per round.